When it comes to finding reliable and convenient vehicle hire services in Tredegar, you need a provider that not only offers a wide range of options but also ensures affordability, flexibility, and top-notch service. In this comprehensive guide, we will explore all aspects of Vehicle Hire Tredegar, including car hire Tredegar, van hire Tredegar, minibus hire Tredegar, and the exceptional services offered by Hire Me! Aberdare. From affordable rates to unlimited mileage and zero deposit options, we've got you covered.
Vehicle Hire Tredegar: A Brief Overview
Vehicle hire, also known as car rental, is a popular service in Tredegar and many other places around the world. It allows individuals and businesses to rent vehicles for various purposes, such as vacations, business trips, moving, or special occasions. Tredegar, a picturesque town in Wales, offers a range of vehicle hire options to cater to diverse needs.
Car Hire Tredegar: Exploring Your Options
Affordable Rates for Every Budget
When it comes to car hire in Tredegar, affordability is key. Whether you need a compact car for a quick city tour or a spacious SUV for a family getaway, Hire Me! Aberdare offers competitive rates that won't break the bank. You can choose from a variety of vehicle models to suit your preferences and budget.
Unlimited Mileage for Your Convenience
Imagine embarking on a road trip without worrying about mileage restrictions. With Hire Me! Aberdare, you can enjoy unlimited mileage, allowing you to explore Tredegar and its surroundings without any added stress. This feature is especially attractive for travelers who want the freedom to roam.
Zero Deposit: Making It Hassle-Free
At Hire Me! Aberdare, we understand that security deposits can be a concern for many customers. That's why we offer a zero deposit option for your peace of mind. You can rent a car in Tredegar without the need for a hefty upfront payment, making the process hassle-free and budget-friendly.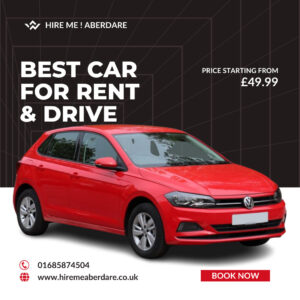 Van Hire Tredegar: Meeting Your Transportation Needs
Van hire in Tredegar is an excellent choice for various purposes, including moving house, transporting goods, or accommodating a large group of travelers. Hire Me! Aberdare's van hire services come with several advantages.
Spacious Vans for Every Occasion
Our fleet includes a range of vans, from compact models for small loads to spacious options for big moves. Whether you're relocating your home or need to transport equipment for an event, we have the right van for the job.
Affordable Rates: Value for Your Money
Affordability is a hallmark of our van hire services. We believe that renting a van for your needs shouldn't be expensive. That's why we offer competitive rates that ensure you get excellent value for your money.
Convenient Booking Process
Booking a van with Hire Me! Aberdare is a breeze. Our user-friendly online platform allows you to reserve the van you need in just a few clicks. Plus, our friendly staff is always ready to assist you in case you have any questions or need assistance.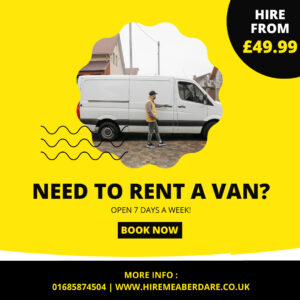 Minibus Hire Tredegar: Traveling with a Group
When you're traveling with a group of friends or family in Tredegar, minibus hire is the ideal choice. It provides comfort, convenience, and a great way to explore together.
Spacious and Comfortable Minibuses
Our minibusses are designed to provide a comfortable and spacious journey for your group. Whether you're planning a day trip or an extended vacation, you'll have ample room to relax and enjoy the ride.
Competitive Rates for Groups
Traveling with a group can be costly, but not with Hire Me! Aberdare. We offer competitive rates for minibus hire, ensuring that you can travel with your loved ones without straining your budget.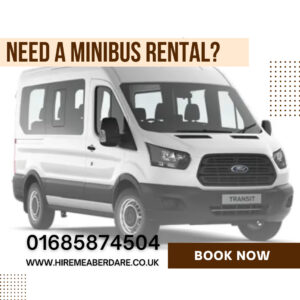 Hire Me! Aberdare: Your Trusted Vehicle Hire Partner
Exceptional Customer Service
At Hire Me! Aberdare, we prioritize customer satisfaction. Our team is dedicated to providing exceptional service, from helping you choose the right vehicle to ensuring a smooth rental experience.
Flexible Rental Options
We understand that every customer has unique needs. That's why we offer flexible rental options, including daily, weekly, and monthly rates. You can rent a vehicle for as long as you need, without any unnecessary commitments.
Easy Returns and Collections
Returning and collecting your rented vehicle is made easy with Hire Me! Aberdare. We have convenient locations and efficient processes to ensure that your rental experience is hassle-free.
FAQs
Q: How do I book a vehicle with Hire Me! Aberdare?
A: Booking with us is simple. Visit our website, choose your vehicle, select your rental dates, and complete the reservation process. You can also reach out to our customer support for assistance at 016850 874504.
Q: Is there an age requirement for renting a vehicle?
A: Yes, you must be at least 27 years old to rent a vehicle with us. Some vehicle categories may have higher age requirements.
Q: What documents do I need to rent a vehicle?
A: You will need a valid driver's license, a form of identification (passport or ID card), and a credit/ debit card for payment and security purposes.
Q: Are the vehicles regularly serviced and maintained?
A: Absolutely. We ensure that all our vehicles are well-maintained and regularly serviced to guarantee your safety and comfort.
Q: Can I modify or cancel my reservation?
A: Yes, you can modify or cancel your reservation online or by contacting our customer support team. Please review our cancellation policy for details.
Conclusion
In conclusion, Hire Me! Aberdare (Vehicle Hire Tredegar), including car hire Tredegar, van hire Tredegar, and minibus hire Tredegar, offers a world of possibilities for travelers and locals alike. Hire Me! Aberdare stands out as a reliable partner in providing affordable rates, unlimited mileage, and zero deposit options. With a commitment to exceptional customer service, flexible rental choices, and well-maintained vehicles, we ensure that your vehicle hire experience in Tredegar is seamless and enjoyable.
So, whether you're planning a scenic road trip, moving to a new place, or needing transportation for a group adventure, consider Hire Me! Aberdare is your go-to vehicle hire provider in Tredegar.