Introduction
When it comes to finding reliable and affordable vehicle hire/rental services in Aberdare, look no further. Whether you're in need of a car, a van, or a minibus, Aberdare offers a range of options to suit your transportation needs. In this comprehensive guide, we'll explore the various vehicle rental services available in Aberdare, ensuring you have all the information you need to make an informed choice. From affordable options to hassle-free experiences, let's dive into the world of vehicle hire in Aberdare.
Vehicle Hire Aberdare: Your Hassle-Free Solution
Vehicle hire/ rental services (Vehicle hire Aberdare) in Hire Me! Aberdare provides a hassle-free solution to your transportation needs. With options ranging from cars to vans and minibusses, you can find the perfect vehicle for your specific requirements. Here's why choosing vehicle rental services in Hire Me! Aberdare is a convenient and practical choice:
Variety of Vehicles to Choose From
Whether you're planning a solo trip, a family vacation, or a group outing, vehicle rental services in Aberdare offer a wide variety of vehicles to choose from. From compact cars for city exploration to spacious vans for group travel, you can find the ideal vehicle that suits your preferences and party size.
Affordable Options for Every Budget
One of the standout features of vehicle hire/rental services in Aberdare is the affordability factor. You can find options that cater to different budget ranges, ensuring that you don't have to break the bank to enjoy a comfortable and convenient mode of transportation during your stay in Aberdare.
Convenience and Flexibility
Vehicle rental services provide unparalleled convenience and flexibility. Instead of relying on public transportation or spending money on taxis, you have the freedom to explore Aberdare and its surrounding areas at your own pace. This level of flexibility is especially valuable when you're traveling with a group or have a busy itinerary.
Expert Customer Support
Hire Me! Aberdare's vehicle hire/rental services prioritize customer satisfaction. With expert customer support teams, you can easily inquire about vehicle options, rental terms, and any additional services you might need. Their friendly staff is readily available to assist you in making the best choice for your travel plans.
Car Hire Aberdare: Exploring the City with Ease
Hire Me! Aberdare Car hire in Aberdare is a popular choice for individuals and small groups who want to explore the city and its surroundings. Here's why you should consider it:
City Exploration
With a hired car at your disposal, you can easily navigate Aberdare and explore its various attractions, landmarks, and hidden gems. Enjoy the freedom to create your own itinerary.
Convenience for Business Travel
For business travelers, car hire offers unmatched convenience. It eliminates the need to rely on public transportation, ensuring you arrive at meetings and appointments promptly.
Privacy and Independence
Car hire provides a level of privacy and independence that other modes of transportation can't match. You can travel without interruptions, making it an ideal option for those who value their personal space.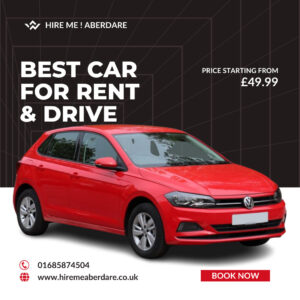 Van Hire Aberdare: Spacious and Practical
If you're traveling with a group or carrying a significant amount of luggage, Hire Me! Aberdare is the best place for van hire Aberdare is an excellent choice. Here's why:
Comfortable Group Travel
Van hire provides the comfort and space required for group travel. Whether you're traveling with family, friends, or colleagues, everyone can travel together in the same vehicle, enhancing the overall experience.
Ample Luggage Space
Vans offer ample luggage space, making them perfect for trips that involve carrying sports equipment, camping gear, or other bulky items. You won't have to worry about leaving anything behind due to space constraints.
Ideal for Special Occasions
Planning a special event or celebration? Van hire in Aberdare is a practical choice for transporting guests or participants to the venue. It ensures everyone arrives together and on time.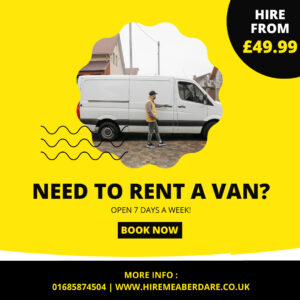 Minibus Hire Aberdare: Group Adventures Made Easy
Hire Me! Aberdare is the best place for minibus hire in Aberdare and is the perfect choice for larger groups seeking a seamless travel experience. Here's what makes it a fantastic option:
Accommodate Large Groups
Minibuses can comfortably accommodate larger groups of travelers. Whether it's a school trip, a family reunion, or a corporate outing, everyone can travel together.
Cost-Effective for Groups
When you divide the cost of minibus hire among group members, it becomes a cost-effective transportation solution. You'll be able to enjoy your trip without worrying about individual fares.
Onboard Comfort and Entertainment
Many minibusses come equipped with amenities to ensure a comfortable journey. From air conditioning to entertainment systems, your group can travel in style.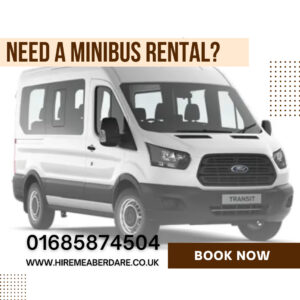 Affordable Vehicle Hire Aberdare: Quality without Compromise
Affordability doesn't mean compromising on quality when it comes to vehicle hire in Aberdare. Here's why you can expect top-notch service:
Well-Maintained Vehicles
Despite the affordable rates, vehicle hire services in Aberdare prioritize vehicle maintenance. You can expect clean, well-maintained vehicles that ensure a safe and comfortable journey.
Transparent Pricing
Affordable vehicle hire comes with transparent pricing. You'll know exactly what you're paying for, and there are no hidden fees or surprises.
Customizable Packages
Whether you need a vehicle for a day or an extended period, you can find customizable rental packages that suit your specific needs. This flexibility ensures you only pay for the services you require.
Cheap Vehicle Rental Aberdare: Budget-Friendly Travel
Traveling on a budget? Cheap vehicle rental options in Aberdare provide the perfect solution. Here's why it's a smart choice:
Savings for Budget-Conscious Travelers
Cheap vehicle rental services cater to travelers who want to maximize their savings. You can enjoy the convenience of a private vehicle without straining your budget.
Freedom to Explore
When you opt for a cheap vehicle rental, you gain the freedom to explore Aberdare and its surroundings without worrying about high transportation costs.
Value for Money
Even with a low-cost rental, you'll still receive a valuable service. Cheap vehicle rental providers prioritize customer satisfaction, ensuring you have a positive experience.
Hassle-Free Van Rental Services: Making Travel Simple
Hassle-free van rental services in Aberdare take the stress out of transportation arrangements. Here's why you should choose them:
Streamlined Booking Process
Van rental services offer a streamlined booking process. You can reserve your vehicle online or over the phone, saving you time and effort.
Additional Services Available
Many van rental services go the extra mile by offering additional services such as GPS rental, child seat rental, and more. This comprehensive approach ensures you have everything you need for a smooth journey.
FAQs about Vehicle Hire/Rental Services in Aberdare
Can I rent a vehicle in Aberdare for a single-day trip?
Absolutely! Most vehicle rental services in Aberdare offer flexible rental options, including single-day rentals. Whether you're exploring the city or embarking on a short adventure, you can find a rental package that suits your needs.
How do I book a vehicle rental in Aberdare?
Booking a vehicle rental in Aberdare is easy. You can visit our website (hiremeaberdare.co.uk), choose your preferred vehicle and rental dates, and complete the online booking form. Alternatively, you can also call (01685874504) their customer support to make a reservation.
What documents do I need to provide when renting a vehicle?
Typically, you'll need to provide a valid driver's license, proof of address, and a credit/ debit card for the rental security. International travelers may also need to provide additional identification documents (Passport).
Are there any age restrictions for renting a vehicle?
Age restrictions vary by rental company and vehicle type. In general, renters need to be at least 27 years old. However, some companies may have higher age requirements for certain vehicle categories.
Can I cancel or modify my vehicle rental reservation?
Most rental companies offer flexible cancellation and modification policies. It's recommended to review the terms and conditions of your reservation before booking to understand the company's policies.
Is insurance included in the rental cost?
Yes, rental insurance is included in the base rental cost. It's advisable to inquire about insurance options when making your reservation to ensure you have appropriate coverage during your rental period.
Conclusion
When it comes to hassle-free and affordable vehicle hire/rental services in Aberdare, the option is Hire ME! Aberdare. From van hire to car hire and minibus hire, you can find the perfect transportation solution for your needs. With well-maintained vehicles, transparent pricing, and expert customer support, your travel experience in Aberdare is bound to be memorable. So, whether you're exploring the city's attractions or embarking on a group adventure, consider the convenience and flexibility that vehicle rental services in Aberdare have to offer.