Introduction: Exploring Abergavenny's Vehicle Hire Options
Are you planning a trip to Abergavenny and searching for the best vehicle hire options? Look no further! In this detailed guide, we will walk you through everything you need to know about vehicle hire services in Abergavenny, Hire Me! Aberdare offers a range of options from vans to cars and minibuses. Whether you're exploring the scenic beauty of the area or embarking on a group adventure, finding the right vehicle rental service is crucial. Read on to discover the best choices that suit your needs and budget.
Vehicle Hire Abergavenny: Unveiling Your Choices
Abergavenny, nestled in the heart of picturesque Wales, is a destination that beckons travelers with its natural beauty and historic charm. Whether you're a local looking for a temporary set of wheels or a visitor eager to explore the region, vehicle hire in Abergavenny Hire Me! Aberdare offers the freedom and flexibility to make the most of your journey. From vans that assist in seamless moves to cars perfect for solo explorations and minibusses ideal for group trips, the options are as diverse as the experiences you'll uncover.
Van Hire Abergavenny: The Perfect Choice for Moving and Transport
When it comes to transporting goods or moving to a new location, van hire in Abergavenny Hire Me! Aberdare emerges as a practical choice. Whether you're relocating your home, delivering goods, or embarking on a DIY project, a well-maintained van can simplify the process. Many rental services offer vans in various sizes, ensuring you have the right vehicle to accommodate your needs. With spacious interiors and efficient engines, these vans are designed to make your tasks hassle-free.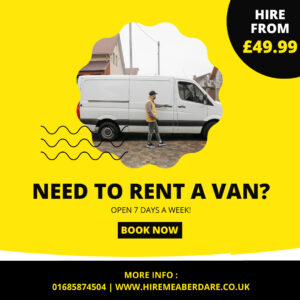 Car Hire Abergavenny: Explore the Town and Surroundings with Ease
For those seeking to explore Abergavenny and its surroundings at their own pace, car hire is the way to go. Imagine the freedom of cruising through scenic routes, stopping at charming cafes, and discovering hidden gems at your leisure. With an array of car options available, from compact models to luxurious sedans, you can select a vehicle that aligns with your preferences. Navigate winding roads and experience the beauty of Abergavenny on your terms with a rented car.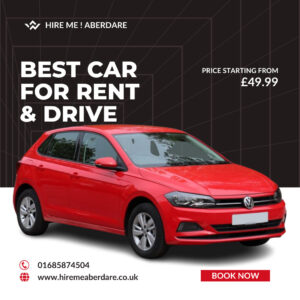 Minibus Hire Abergavenny: Group Travel Made Convenient
Traveling with a group of friends or family? Minibus hire in Abergavenny Hire Me! Aberdare provides a convenient solution. Whether you're planning a day trip, a special event, or a team outing, minibusses offer ample space for everyone to travel together. This eliminates the need for multiple vehicles and ensures a cohesive journey. Equipped with comfortable seating and modern amenities, minibusses allow you to focus on creating memorable experiences with your companions.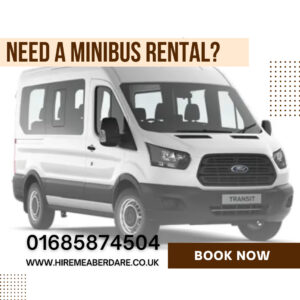 Hire Me! Aberdare: Your Trusted Vehicle Hire Partner
When it comes to vehicle hire in Abergavenny, Hire Me! Aberdare stands out as a reliable and customer-centric choice. Here's why they're the preferred option for many:
Affordable Rates: Hire Me! Aberdare offers competitive rates that won't break the bank. Whether you're on a budget or looking for a cost-effective solution, their pricing is designed to meet your needs.
Best Fleet Variety: From vans to cars and minibusses, Hire Me! Aberdare boasts a diverse fleet to cater to different preferences. You'll have access to modern and well-maintained vehicles that ensure a comfortable and safe journey.
Exceptional Service: Customer satisfaction is a top priority at Hire Me! Aberdare. Their attentive and friendly staff go the extra mile to make your vehicle hire experience smooth and enjoyable.
Affordable Vehicle Hire Abergavenny: Quality Doesn't Have to Be Expensive
Worried about breaking the bank with vehicle hire? Fear not, as Hire Me! Aberdare offers a range of affordable rental options to suit various budgets. Whether you're looking for a budget-friendly choice or a premium vehicle for a special occasion, rental services cater to diverse preferences. It's advisable to compare prices, vehicle models, and rental terms to find the best fit for your needs.
Exploring Abergavenny's Best Fleet: The Key to Memorable Journeys
The quality of your journey is directly influenced by the vehicle you choose. Hire Me! Aberdare's extensive fleet guarantees you'll find the perfect fit for your adventure. Whether you're aiming for comfort, style, or functionality, their range of vehicles caters to various preferences.
Top Attractions to Explore with Your Rental Vehicle
With your rental vehicle at your disposal, you'll have the opportunity to explore Abergavenny and its surroundings extensively. Some must-visit attractions include:
Abergavenny Castle: Discover the town's rich history and enjoy stunning views from this well-preserved castle.
Sugarloaf Mountain: Embark on a rewarding hike up this iconic peak for panoramic vistas of the region.
Blaenavon World Heritage Site: Immerse yourself in the industrial history of the area with a visit to this UNESCO site.
Brecon Beacons National Park: Drive through this picturesque national park and revel in its natural beauty.
Customer Reviews: What People Say About Hire Me! Aberdare (Vehicle Hire in Abergavenny)
Listening to the experiences of others can offer valuable insights into vehicle hire services in Abergavenny. Many travelers have shared positive feedback about the convenience, affordability, and quality of rental vehicles in the area. Whether it's for short trips or longer journeys, rental services have played a pivotal role in enhancing travel experiences.
FAQs about Vehicle Hire in Abergavenny
Q: How do I book a vehicle with Hire Me! Aberdare?
Booking with Hire Me! Aberdare is simple. You can visit their website or Phone, browse the available options, and choose the vehicle that suits your needs. Then, follow the booking instructions and receive confirmation of your reservation.
Q: Are there age restrictions for renting a vehicle?
Yes, there are age restrictions for vehicle rental. Generally, renters need to be at least 27 years old. However, specific age requirements may vary based on the type of vehicle and rental company policies.
Q: Can I make changes to my reservation?
Yes, you can usually make changes to your reservation, such as adjusting the pickup or drop-off times, vehicle type, or rental duration. It's recommended to contact Hire Me! Aberdare's customer service for assistance with any changes.
Q: What if I encounter issues during the rental period?
If you experience any issues with your rental vehicle during the hire period, you should contact Hire Me! Aberdare's customer support immediately. They will provide guidance on how to proceed and ensure your concerns are addressed promptly.
Q: Is insurance included with the rental?
Yes, Hire Me! Aberdare offers insurance included with their rental.
Q: How far in advance should I book my vehicle?
To secure the vehicle of your choice, it's recommended to book as far in advance as possible or you can book at the last minute. Popular rental options tend to get reserved quickly, especially during peak travel seasons. Booking early ensures you have a wider selection to choose from.
Conclusion: Your Ideal Vehicle Hire Experience Awaits
In conclusion, when it comes to vehicle hire in Abergavenny, Hire Me! Aberdare stands out as the go-to option for affordable rates, a diverse fleet, and exceptional service. Whether you need a van, car, or minibus, their offerings cater to various needs and preferences. Don't miss out on the opportunity to enhance your travel experience with reliable and top-quality vehicles.