Are you in need of reliable and affordable transportation options in Blackwood? Look no further than Hire Me! Aberdare is your ultimate destination for vehicle hire services. Whether you're planning a road trip, moving houses, or simply needing a vehicle for a short period, we have you covered. Our comprehensive fleet includes cars, vans, and minibusses, ensuring you find the perfect vehicle to suit your needs. In this article, we will take you through the various vehicle hire options available in Blackwood, highlighting the benefits, affordability, and excellent fleet at Hire Me! Aberdare.
Vehicle Hire Blackwood: Your Convenient Travel Solution
If you're searching for convenient and hassle-free vehicle hire options in Blackwood, you've come to the right place. At Hire Me! Aberdare, we understand the importance of reliable transportation. Our vehicle hire services cater to various needs, whether it's a solo adventure, family outing, or group trip. Our user-friendly booking process makes it easy for you to reserve the vehicle of your choice without any hassle.
With a variety of vehicles at your disposal, you can explore Blackwood and its surroundings with ease. From compact cars for city exploration to spacious vans for group travel, our fleet has it all. Need something larger for a group trip? Our minibus hire service is perfect for you. We offer flexible rental periods, competitive rates, and top-notch customer service to ensure your experience with us is nothing short of exceptional.
Car Hire Blackwood: Explore the Region in Style
Unleash Your Adventure with Car Hire Services
When it comes to exploring the beauty of Blackwood and its scenic surroundings, a car hire service provides the flexibility and convenience you need. Hire Me! Aberdare offers a wide range of cars to choose from, each equipped with modern amenities to make your journey comfortable and enjoyable. Whether you're a solo traveler, a couple seeking a romantic getaway, or a family embarking on a road trip, our car hire service has the perfect vehicle for you.
Affordable Car Hire Options
We understand the importance of budget-friendly options without compromising on quality. Our car hire service in Blackwood offers affordable rates that cater to all types of travelers. You can choose from economy cars for cost-effective travel or opt for a more luxurious option if you're looking to indulge. Our transparent pricing ensures that you know exactly what you're paying for, without any hidden fees.
Seamless Booking Process
Booking a car with Hire Me! Aberdare is a breeze. Our user-friendly online platform allows you to browse through our car options, select the one that suits your preferences, and secure your booking in just a few clicks. Our team is also available to assist you in choosing the right car for your needs if you require personalized recommendations.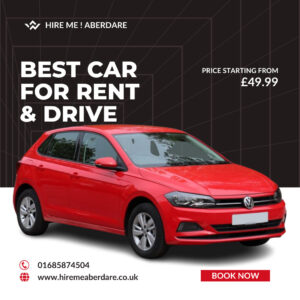 Van Hire Blackwood: Your Solution for Group Travel
Spacious and Comfortable Van Hire Services
Traveling with a larger group? Our van hire services in Blackwood offer the perfect solution. Whether you're planning a family reunion, a corporate outing, or a trip with friends, our spacious vans provide ample room for everyone. Say goodbye to the hassle of coordinating multiple vehicles and enjoy the convenience of traveling together in one comfortable van.
Tailored to Your Needs
We understand that different groups have different requirements. That's why our van hire options are flexible and tailored to your specific needs. Need extra storage space for luggage? Looking for a van with additional amenities? Our diverse fleet ensures that you find the ideal van to accommodate your group and preferences.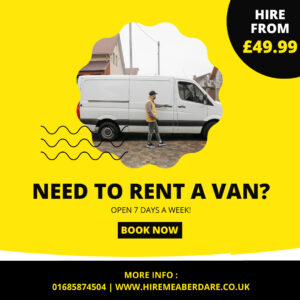 Minibus Hire Blackwood: Group Adventures Made Easy
Stress-Free Group Travel
Embarking on a group adventure doesn't have to be stressful. Our minibus hire service in Blackwood allows you to travel with ease and comfort. Whether it's a school trip, a sports team outing, or a special event, our minibusses offer a convenient and spacious mode of transportation.
Impressive Fleet Selection
Our fleet of minibusses caters to various group sizes, ensuring that you have the perfect vehicle for your journey. Each minibus is equipped with modern amenities to enhance your travel experience. With comfortable seating, climate control, and entertainment options, you and your group can relax and enjoy the ride.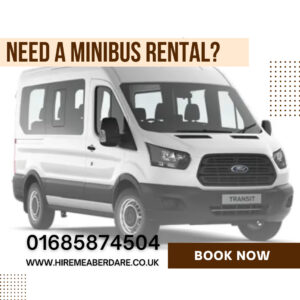 Hire Me! Aberdare: Your Trusted Vehicle Hire Partner
Best Fleet Selection
At Hire Me! Aberdare, we take pride in offering the best fleet selection in Blackwood. Our vehicles are well-maintained, regularly serviced, and equipped with the latest features for a safe and enjoyable journey. Whether you're looking for a compact car, a spacious van, or a comfortable minibus, our fleet has been curated to meet a variety of preferences and travel needs.
Affordable Rates, Exceptional Service
Affordability and excellent service are at the core of our values. We believe that quality transportation should be accessible to all, which is why we offer competitive rates without compromising on the quality of our vehicles or customer service. Our team is dedicated to ensuring your rental experience is seamless from start to finish.
FAQs
Is there a minimum age requirement for renting a vehicle?
Yes, the minimum age requirement for renting a vehicle is 27 years. Some vehicle categories may have a higher minimum age requirement.
Can I modify or cancel my reservation?
Yes, you can modify or cancel your reservation through our online or phone call. Please refer to our cancellation policy for more information.
Are there any additional fees apart from the rental charges?
No additional charges
Are there any deposits apart from the rental charges?
No, £0 deposit on Hire
How can I make payments for my reservation?
We accept payments through various methods, including phone calls, and credit/debit cards. Our online payment process is secure and user-friendly.
Is insurance included in the rental price?
Yes
Conclusion: Your Journey Starts with Hire Me! Aberdare
When it comes to reliable, affordable, and convenient vehicle hire services in Blackwood, Hire Me! Aberdare stands out as your trusted partner. With a diverse fleet, competitive rates, and exceptional customer service, we are committed to ensuring your journey is smooth and enjoyable. Whether you're exploring Blackwood's attractions, embarking on a group adventure, or simply need a reliable vehicle for your daily commute, we have the perfect option for you. Experience the freedom of hassle-free travel with Hire Me! Aberdare today.