When it comes to exploring the stunning landscapes of Brecon Beacons, having the right vehicle is paramount. Whether you're planning a leisurely getaway, a family adventure, or a group expedition, finding the perfect vehicle for hire can make all the difference. In this guide, we'll delve into the world of vehicle hire in Brecon Beacons, covering car hire, van hire, minibus hire, and more. Get ready to embark on an unforgettable journey with hassle-free options that provide affordability, reliability, and convenience.
Vehicle Hire Brecon Beacons: Navigating the Natural Beauty
Brecon Beacons is a haven for nature enthusiasts, offering a diverse range of activities and landscapes to explore. To truly immerse yourself in its beauty, having the right vehicle is key. The vehicle hire services in Brecon Beacons cater to all kinds of travelers, ensuring that you have the ideal mode of transportation to traverse its valleys, mountains, and picturesque villages.
Car Hire Brecon Beacons: Freedom and Flexibility
Experience the Freedom: Car hire services in Brecon Beacons offer you the freedom to set your own pace and explore the region according to your schedule. Whether you're planning to visit Pen y Fan, the highest peak in southern Britain, or the enchanting waterfalls of Henrhyd Falls, having a car at your disposal means you can venture where you please.
Explore Quaint Villages: Discover charming villages like Hay-on-Wye, famous for its bookshops, or Crickhowell with its historic charm. Car hire allows you to meander through these idyllic places, making impromptu stops and capturing the essence of Brecon Beacons.
Opt for Comfort: With a variety of car options available, you can choose a vehicle that suits your comfort and style preferences. From compact cars for solo travelers to spacious SUVs for families, car hire services ensure a comfortable journey for everyone.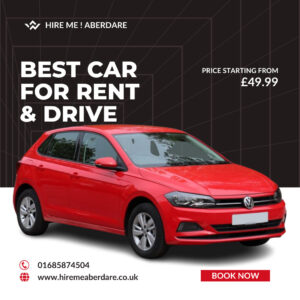 Van Hire Brecon Beacons: Spacious Adventures
Ample Space: For larger groups or those traveling with equipment, van hire services in Brecon Beacons provide the perfect solution. Whether you're embarking on a camping trip or transporting sports gear, a van offers ample space to accommodate both passengers and cargo.
Group Exploration: Traveling with a group of friends? Van hire ensures that everyone can share the adventure together. From team-building trips to family reunions, hiring a van fosters a sense of togetherness during your Brecon Beacons escapade.
Convenient and Versatile: Vans are not only spacious but also versatile. They are designed to handle various terrains, making them an ideal choice for navigating the diverse landscapes of Brecon Beacons.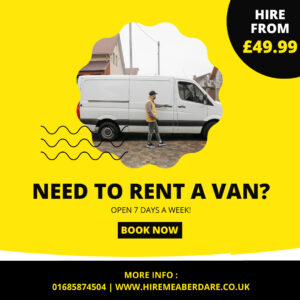 Minibus Hire Brecon Beacons: Journeying with a Crowd
Group Excursions: When your travel party is on the larger side, minibus hire becomes the go-to option. It provides comfort, convenience, and a seamless experience for group excursions, school trips, or corporate events in Brecon Beacons.
Safe and Efficient: Minibuses are designed with safety and efficiency in mind. They offer a practical solution for traveling together without compromising on comfort or safety.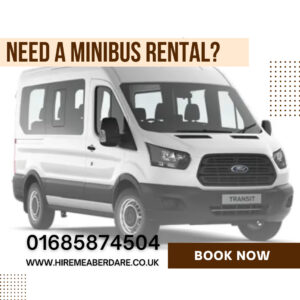 Hire Me Aberdare: Your Trusted Rental Partner
Local Expertise: Hire Me Aberdare stands out as a local expert in vehicle hire services in Brecon Beacons and the surrounding areas. With years of experience, they understand the unique requirements of exploring this remarkable region.
Well-Maintained Fleet: At Hire Me Aberdare, they take pride in their well-maintained fleet of vehicles. Each vehicle is meticulously inspected to ensure safety, performance, and a comfortable journey for every traveler.
Affordable Rates: Exploring Brecon Beacons shouldn't break the bank. Hire Me Aberdare offers competitive and affordable rates, making it accessible for travelers with varying budgets to enjoy the beauty of the region.
Affordable Rates: Exploring Brecon Beacons Without Breaking the Bank
Value for Money: The affordability of vehicle hire services allows you to get the most value out of your trip. You can allocate your budget to other experiences, such as dining at local restaurants, engaging in outdoor activities, or visiting cultural attractions.
Flexible Packages: Hire Me Aberdare offers flexible packages tailored to your specific needs. Whether you're renting a car for a day or a van for a week-long adventure, you can find a package that suits your itinerary and budget.
Transparent Pricing: One of the standout features of Hire Me Aberdare is its commitment to transparent pricing. Say goodbye to hidden charges and unexpected fees; what you see is what you get, allowing you to plan your trip with confidence.
Well-Maintained Fleet: A Smooth and Safe Journey
Reliability First: When you're exploring the picturesque routes of Brecon Beacons, having a reliable vehicle is paramount. Hire Me Aberdare's fleet is regularly serviced and maintained to ensure that you experience a smooth and trouble-free journey.
Modern Amenities: The fleet includes a range of modern vehicles equipped with amenities that enhance your travel experience. From comfortable seating to the latest navigation systems, you'll have everything you need at your fingertips.
Peace of Mind: Travel with peace of mind, knowing that the vehicle you're renting from Hire Me Aberdare is in excellent condition. This attention to detail reflects their commitment to providing you with the best possible experience.
£0 Deposit on Hire: Making Travel More Accessible
Budget-Friendly Approach: With Hire Me Aberdare, you can secure your vehicle rental without the burden of a hefty deposit. This budget-friendly approach ensures that you can allocate your funds to other aspects of your trip.
Easy Booking Process: The booking process is designed to be hassle-free. You can reserve your desired vehicle with ease, allowing you to focus on planning the perfect itinerary for your Brecon Beacons adventure.
No Hidden Charges: Clarity from Start to Finish
Transparent Transactions: The frustration of encountering hidden charges after your trip is a thing of the past with Hire Me Aberdare. Their commitment to transparency means that you'll only pay for what you've agreed upon at the time of booking.
Detailed Breakdown: The pricing structure is provided in a detailed breakdown, ensuring that you understand exactly what you're paying for. This level of clarity allows you to make informed decisions and eliminates any unpleasant surprises.
Customer-Centric Approach: Hire Me Aberdare's dedication to a customer-centric approach is evident in its transparent pricing policy. It's all about creating a positive and stress-free experience for every traveler.
FAQs
Q: How can I book a vehicle with Hire Me Aberdare?
A: Booking a vehicle with Hire Me Aberdare is a breeze. Simply visit our website or by phone, choose your desired vehicle, select your travel dates, and follow the prompts to complete the reservation. You can also reach out to their customer support for assistance.
Q: Are there any additional charges for mileage?
A: Hire Me Aberdare offers unlimited mileage with their vehicle rentals, so you won't need to worry about additional charges based on the distance you travel.
Q: Can I make changes to my reservation?
A: Yes, you can make changes to your reservation. Whether you need to adjust your travel dates or switch to a different vehicle, their customer support team will be happy to assist you.
Q: Is it possible to cancel my reservation?
A: Yes, you can cancel your reservation. Hire Me Aberdare understands that plans can change.
Q: Are vehicles equipped with GPS navigation?
A: Yes, many vehicles in Hire Me Aberdare's fleet are equipped with GPS navigation systems, ensuring that you can navigate the Brecon Beacons with ease.
Conclusion: Your Journey Begins with Hire Me Aberdare
Embarking on an adventure in Brecon Beacons is a journey of discovery and wonder. With Hire Me Aberdare, you're not just renting a vehicle; you're gaining a trusted companion for your exploration. From car hire to van hire and minibus hire, their comprehensive range of options ensures that you'll find the perfect fit for your travel needs. With affordable rates, a well-maintained fleet, £0 deposit, and no hidden charges, your journey begins on a high note. Say yes to unforgettable experiences, breathtaking landscapes, and seamless travel—all made possible with Hire Me Aberdare.