Planning a trip, moving to a new place, or simply need a temporary vehicle? Vehicle Hire Bridgend has got you covered. We understand that having access to reliable transportation is essential for various situations. Our mission is to provide you with an easy, affordable, and hassle-free vehicle rental experience. Whether you're exploring Bridgend, moving to a new home, or organizing a group trip, our diverse fleet of vehicles is ready to meet your needs.
Vehicle Hire Bridgend: Convenient and Affordable
Well-maintained fleet for Every Occasion
Our commitment to quality starts with our well-maintained fleet. We take pride in offering vehicles that are in top-notch condition, ensuring a smooth and safe ride for our customers. From compact cars to spacious vans and minibusses, our diverse selection of vehicles caters to different preferences and requirements.
No Hidden Charges, No Worries
One of the biggest concerns when renting a vehicle is hidden charges. At Vehicle Hire Bridgend, we believe in transparency and honesty. That's why our pricing is straightforward, with no hidden fees to catch you off guard. What you see is what you pay, allowing you to plan your budget with confidence.
A Variety of Vehicles at Your Service
Every journey is unique, and we understand that different occasions call for different types of vehicles. Our fleet includes a wide range of options, from fuel-efficient cars for solo travelers to spacious vans for moving or group trips. Whatever your transportation needs, we have the perfect vehicle for you.
How to Book Your Rental
Booking your rental with Vehicle Hire Bridgend is a breeze. Simply visit our user-friendly website or give us a call. Provide us with your rental dates, vehicle preferences, and any additional requirements. Our dedicated team will assist you in finding the ideal vehicle and package to suit your needs.
Car Hire Bridgend: Exploring the Town with Ease
Discover Bridgend's Hidden Gems
Exploring Bridgend and its surrounding areas becomes a joy with our car hire services. Enjoy the freedom to roam the town and discover its hidden gems at your own pace. Whether you're a tourist or a local looking to experience something new, our convenient car rentals make it all possible.
Convenient Car Hire Process
Renting a car with Vehicle Hire Bridgend is designed to be convenient and hassle-free. Our streamlined booking process ensures that you can secure your rental quickly and easily. Plus, with our well-maintained vehicles, you can embark on your journey with confidence, knowing that you're in a reliable and comfortable ride.
Local Travel Tips
As locals ourselves, we understand the importance of insider knowledge when exploring a new place. Along with your car rental, we're happy to provide you with local travel tips and recommendations. Whether it's the best places to eat, scenic routes, or must-visit attractions, we've got you covered.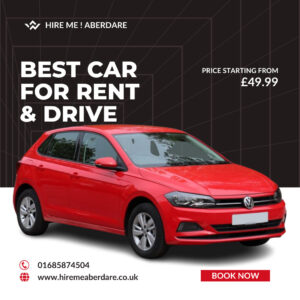 Van Hire Bridgend: Spacious and Reliable
Versatility of Van Rentals
When you need more space for passengers or cargo, our van rentals come to the rescue. Ideal for family vacations, group outings, or moving to a new home, our vans offer the space and versatility you require.
Ideal for Moving and Group Trips
Moving can be a stressful experience, but with our van hire services, it becomes much smoother. Our spacious vans provide ample room for your belongings, ensuring that your move is efficient and stress-free. Additionally, for group trips, our vans allow everyone to travel together, enhancing the experience.
Hassle-Free Van Hire Process
Renting a van with Vehicle Hire Bridgend is hassle-free from start to finish. Our team is here to guide you through the rental process, helping you choose the right van for your needs. With flexible rental options and transparent pricing, you can focus on your journey rather than the logistics.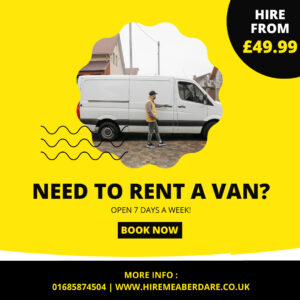 Minibus Hire Bridgend: Travel Together with Comfort
Enjoy Group Travels
Traveling with a group of friends or family? Our minibus hire services are designed to make group travel comfortable and convenient. Say goodbye to the hassle of coordinating multiple vehicles and enjoy the camaraderie of traveling together.
Comfortable and Spacious Minibuses
Our minibusses are equipped with ample seating and legroom, ensuring that everyone can travel in comfort. Whether you're embarking on a family vacation or a team-building trip, our minibusses provide the space and comfort you need for a memorable journey.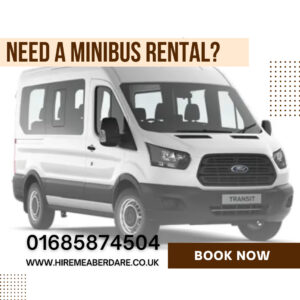 Hire Me Aberdare: Extending Our Quality Services
Serving Aberdare Community
Expanding our reach beyond Bridgend, we are proud to serve the Aberdare community with our top-notch vehicle hire services. We understand the importance of reliable transportation, and we are dedicated to providing the same level of convenience and quality to our Aberdare customers.
Affordable Rates and Flexible Packages
Catering to Your Budget
At Vehicle Hire Bridgend, affordability is a cornerstone of our service. We believe that everyone deserves access to reliable transportation without breaking the bank. Our competitive rates and flexible packages ensure that you can find a rental option that fits your budget.
Well-Maintained Fleet for Your Peace of Mind
Keeping Vehicles in Top Condition
A well-maintained vehicle is crucial for a smooth and safe journey. Our team of experts regularly inspects and maintains our fleet to ensure that each vehicle is in optimal condition. When you rent from us, you can trust that you're getting a vehicle that's ready to perform.
£0 Deposit on Hire: Making It Easy for You
Deposit-Free Rentals
We understand that unexpected expenses can be a burden, especially when renting a vehicle. That's why we offer £0 deposit on hire, allowing you to reserve your rental without the need for a hefty deposit. It's just one of the ways we make your experience hassle-free and convenient.
No Hidden Charges: Transparent and Trustworthy
Clear and Honest Pricing
Worried about hidden fees and unexpected charges? With Vehicle Hire Bridgend, you can put those worries to rest. Our pricing is clear and honest, ensuring that you know exactly what you're paying for. No surprises, no hidden costs—just straightforward pricing.
Open 7 Days a Week: Your Convenience Matters
Service Whenever You Need It
Life doesn't adhere to a 9-to-5 schedule, and neither do we. We understand that your transportation needs can arise at any time. That's why we're open 7 days a week, ready to assist you whenever you need us. With Vehicle Hire Bridgend, convenience is a top priority.
FAQs About Vehicle Hire Bridgend
Q: How do I make a reservation?
A: Making a reservation is easy! You can visit our website and use our user-friendly booking system, or you can give us a call to speak with one of our friendly representatives who will guide you through the process.
Q: Are there any additional fees I should be aware of?
A: No, we believe in transparent pricing. The price you see is the price you pay. We don't believe in hidden fees or surprises.
Q: Can I rent a vehicle for a day or two?
A: Absolutely! Whether you need a vehicle for a day, a weekend, or even longer, we offer flexible rental options to suit your needs.
Q: What types of vehicles do you offer?
A: Our fleet includes a wide range of vehicles, from compact cars to spacious vans and minibusses. We have options for solo travelers, families, and groups.
Q: Is there an age requirement for renting a vehicle?
A: Yes, the minimum age requirement for renting a vehicle is 27 years old. Some vehicle categories may have higher age requirements.
Q: What happens if the vehicle breaks down during my rental?
A: In the unlikely event of a breakdown, simply contact our roadside assistance. We'll ensure that you receive the necessary support to get back on the road as soon as possible.
Conclusion
When it comes to convenient, affordable, and hassle-free vehicle hire in Bridgend, Vehicle Hire Bridgend is your trusted partner. With our commitment to quality, transparent pricing, and a well-maintained fleet, we're here to make your transportation needs a breeze. Whether you're exploring Bridgend, moving to a new home, or embarking on a group adventure, we're ready to provide you with a reliable and comfortable vehicle rental experience.
If you're looking for a reliable transportation solution, look no further. Choose Vehicle Hire Bridgend and enjoy the convenience, affordability, and peace of mind that comes with our top-notch services.