Unveiling Affordable Vehicle Hire Services in Brynmawr
In the picturesque town of Brynmawr, finding reliable and affordable vehicle hire services can make all the difference in your transportation needs. At Vehicle Hire Brynmawr, we are committed to providing top-notch car, van, and minibus hire solutions that meet your requirements without breaking the bank. Our well-maintained fleet, £0 deposit policy, no mileage restrictions, and convenient operating hours set us apart as your go-to option for hassle-free transportation solutions.
Introduction: Your Trusted Partner for Vehicle Hire in Brynmawr
When it comes to vehicle hire services in Brynmawr and the surrounding areas, Vehicle Hire Brynmawr stands out as a trusted and reputable choice. Whether you need a car for a short trip, a van for moving, or a minibus for group travel, we have you covered. Our commitment to affordable rates, a well-maintained fleet, flexible terms, and exceptional customer service ensures that you have a seamless experience from start to finish.
Affordable Rates: Traveling on a Budget
At Vehicle Hire Brynmawr, we understand the importance of cost-effective transportation options. Our competitive pricing ensures that you can enjoy high-quality vehicles without straining your budget. We offer a variety of rental packages tailored to different needs, whether you need a vehicle for a few hours, a day, or an extended period. Our transparent pricing model means no hidden charges, allowing you to plan your expenses with confidence.
Well-Maintained Fleet: Travel with Confidence
Our well-maintained fleet is a testament to our commitment to your safety and comfort. Each vehicle in our lineup undergoes regular maintenance and thorough inspections to ensure it meets the highest standards of performance and reliability. Whether you're renting a car, van, or minibus, you can embark on your journey with peace of mind, knowing that you're in a vehicle that's been professionally maintained and cared for.
£0 Deposit on Hire: No Upfront Hassles
At Vehicle Hire Brynmawr, we believe in making the rental process as smooth as possible. That's why we offer a £0 deposit policy on all our vehicle hires. We understand that hefty deposits can be a burden, and we want to eliminate that hassle for you. This way, you can secure your rental with ease and have more flexibility in managing your finances during your travels.
No Mileage Restrictions: Explore Freely
When you rent a vehicle from us, you have the freedom to explore without limitations. We have a no mileage restrictions policy, which means you can journey as near or as far as you'd like without worrying about additional charges based on distance. Whether you're embarking on a short local trip or a scenic road adventure, the odometer won't hold you back.
Open 7 Days a Week: Convenience at Your Fingertips
We understand that your transportation needs don't adhere to a strict schedule. That's why we are open 7 days a week, ensuring that you can access our vehicle hire services whenever you need them. Whether it's a weekday getaway, a weekend excursion, or a special occasion, our flexible operating hours make it convenient for you to pick up and return your rental at a time that suits your plans.
Minibus Hire Brynmawr: Travel Together in Comfort
Planning a group outing or a special event? Our minibus hire service has got you covered. Whether it's a family reunion, a corporate event, or a school trip, our spacious and comfortable minibuses can accommodate your group's needs. With ample seating, air conditioning, and modern amenities, you can travel together in style and comfort, making your journey as enjoyable as the destination itself.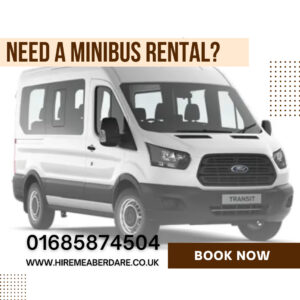 Car Hire Brynmawr: Exploring the Town with Ease
Exploring the charming town of Brynmawr is a delight when you opt for our car hire services. Navigate through the winding streets and discover local attractions with the convenience of your own vehicle. From historical sites to hidden gems, you can create your itinerary and enjoy a personalized adventure at your own pace.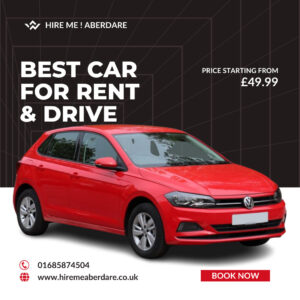 Van Hire Brynmawr: Moving Made Simple
Moving house or transporting goods? Our van hire services are designed to simplify the process. With a range of van sizes available, you can choose the one that best suits your needs. Our vans are equipped with features to secure your cargo during transit, giving you peace of mind while you relocate or transport items from one place to another.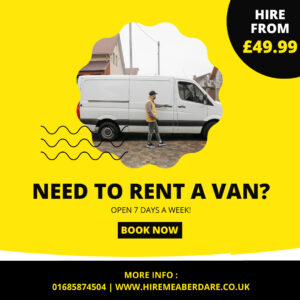 Hire Me Aberdare: Beyond Brynmawr
Our services extend beyond Brynmawr to Aberdare and the surrounding areas. If you're in Aberdare and looking for reliable vehicle hire options, Vehicle Hire Brynmawr is your answer. Our commitment to affordable rates, well-maintained vehicles, and excellent customer service is consistent across all our locations, ensuring that you have a consistent and reliable experience wherever your journey takes you.
Expert FAQ's
Q: Are there any hidden charges in your pricing?
No, there are no hidden charges in our pricing. We believe in transparency, and the price you see is the price you pay. This ensures that you can plan your budget accurately without any surprises.
Q: Can I rent a vehicle for just a few hours?
Absolutely! We offer flexible rental options, whether you need a vehicle for a few hours, a day, or longer. Our rental packages are designed to cater to various needs and timeframes.
Q: How do I secure my vehicle rental without a deposit?
Securing your rental without a deposit is easy. Our £0 deposit policy eliminates the need for an upfront deposit. Simply provide the necessary documentation and payment details, and you're all set to hit the road.
Q: What happens if I exceed the mileage limit?
You don't need to worry about mileage limits with us. We have a no mileage restrictions policy, so you can drive as much as you want without incurring any extra charges based on distance.
Q: Can I rent a minibus for a special event?
Absolutely! Our minibus hire service is ideal for special events, group outings, and more. With spacious seating and modern amenities, you and your group can travel comfortably and in style.
Q: How do I return the rental vehicle outside of normal business hours?
Returning your rental outside of our normal operating hours is possible through our convenient drop-off process. We'll provide you with instructions on where to park the vehicle and how to securely return the keys.
Conclusion: Your Journey Starts Here
Vehicle Hire Brynmawr is your partner for affordable, reliable, and convenient transportation solutions. Whether you're exploring Brynmawr, Aberdare, or beyond, our well-maintained fleet, no deposit policy, and customer-focused approach ensure that your journey is smooth and enjoyable. With open operating hours and a commitment to transparency, we're here to make your travel experiences memorable for all the right reasons.