Are you in need of reliable and hassle-free vehicle hire services in Caerphilly? Look no further! We, at Hire Me Aberdare, bring you a comprehensive range of options for vehicle hire that cater to your every need. Whether you require a car for a weekend getaway or a van for transporting goods, our services are tailored to suit various preferences and requirements. In this detailed guide, we will walk you through the array of choices we offer, highlighting the benefits of affordable rates, unlimited mileage, zero deposit, and flexible contract options. Read on to discover the perfect vehicle hire solution for you!
Vehicle Hire Caerphilly: Your Trusted Source for Convenience
When it comes to vehicle hire in Caerphilly, we stand out as your trusted and reliable source. Our commitment to providing top-notch services, along with our extensive fleet of vehicles, makes us the go-to choice for locals and visitors alike.
Car Hire Caerphilly: Exploring the Roads in Comfort
Experience the freedom of the road with our car hire services in Caerphilly. From compact cars to spacious sedans, our range ensures that you travel in comfort and style. Whether you're heading for a business meeting or a leisurely adventure, our vehicles are equipped to make your journey memorable.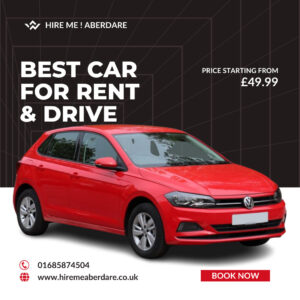 Van Hire Caerphilly: Versatile Solutions for Your Transport Needs
Need to move goods or equipment? Our van hire options have got you covered. With various sizes available, you can choose the van that best fits your requirements. We understand the importance of efficient transportation, and our vans are designed to meet your cargo needs with ease.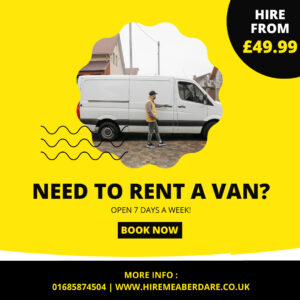 Minibus Hire Caerphilly: Travel Together, Create Memories
Planning a group outing or a family trip? Our minibus hire services offer spacious and comfortable solutions. Say goodbye to the hassle of coordinating multiple vehicles. With our minibusses, you can travel together, enjoy the journey, and create unforgettable memories.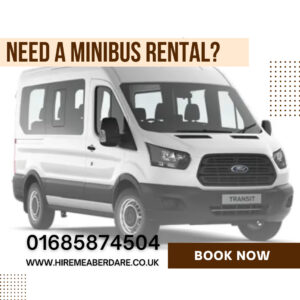 Affordable Rates: Quality Service Without Breaking the Bank
At Hire Me Aberdare, affordability meets excellence. We take pride in offering competitive rates without compromising on the quality of our vehicles or services. Our goal is to make top-tier vehicle hire accessible to everyone.
Unlimited Mileage: Embrace the Freedom to Explore
Why limit your adventures? Our vehicle hire services come with unlimited mileage, giving you the freedom to explore Caerphilly and beyond without worrying about distance constraints. The road is yours to conquer!
Zero Deposit on Hire: Easy and Stress-Free Rentals
We understand that the upfront deposit can be a concern when renting a vehicle. With us, you can enjoy zero deposit on hire, ensuring a stress-free rental experience. Your journey begins without any financial burden.
Open Seven Days a Week: Convenience on Your Schedule
Life is busy, and we get that. That's why we're open seven days a week, ready to serve you whenever you need us. Whether it's a spontaneous weekend getaway or a last-minute business trip, we're here to assist.
Long/Short-Term Contract: Flexibility That Fits You
Every journey is unique, and so are your vehicle hire needs. We offer both long and short-term contract options, allowing you to choose the duration that best suits your plans. Our flexibility ensures your satisfaction.
Call 01685874504: Your Direct Line to Quality Service
Have questions or ready to make a reservation? Give us a call at 01685874504, and our friendly and knowledgeable team will be happy to assist you. Experience the ease of direct communication with our dedicated staff.
FAQs About Vehicle Hire in Caerphilly
How do I make a reservation?
Making a reservation is as easy as picking up the phone! Simply give us a call at 01685874504, and our team will guide you through the process, or visit our website.
Are there any hidden fees apart from the rental rates?
Absolutely not! We believe in transparency, and our rental rates are all-inclusive. You won't have to worry about unexpected fees.
Can I extend the duration of my rental?
Certainly! If you find yourself needing the vehicle for a longer period, just let us know in advance, and we'll make the necessary arrangements.
What documents do I need to provide for renting a vehicle?
You'll need a valid driver's license, proof of identification, and a credit/debit card for security.
Is there a cancellation policy?
Yes, we have a cancellation policy in place. Please inform us as soon as possible if you need to cancel your reservation. Our team will provide you with the necessary details.
Conclusion
When it comes to vehicle hire solutions in Caerphilly, Hire Me Aberdare stands as the epitome of convenience, quality, and affordability. With an extensive fleet of vehicles, unbeatable rates, unlimited mileage, and exceptional customer service, we are committed to making your journey smooth and memorable. Whether you're exploring Caerphilly or embarking on a cross-country adventure, we have the perfect vehicle for you. Don't hesitate—give us a call at 01685874504 and experience vehicle hire like never before!