Vehicle Hire Cardiff: Your Options for Every Occasion
When it comes to vehicle hire services in Cardiff, you want a seamless experience that meets your needs. Whether you're looking to explore the city, move your belongings, or embark on a group adventure, finding a reliable and flexible rental option is essential. This comprehensive guide will walk you through everything you need to know about vehicle hire in Cardiff, including car hire, van hire, minibus hire, and more. From affordable rates and unlimited mileage to zero deposit requirements, we've got you covered.
Car Hire Cardiff: Freedom to Explore
When you're in Cardiff and eager to explore the city at your own pace, car hire becomes your best friend. With our vehicle hire services, you'll have access to a wide range of cars suitable for solo travelers, couples, or small families. From compact and fuel-efficient models to spacious sedans, you can choose the car that fits your style and requirements. Our car hire service offers the flexibility of short-term and long-term contracts, ensuring that you have the freedom to drive around Cardiff on your terms.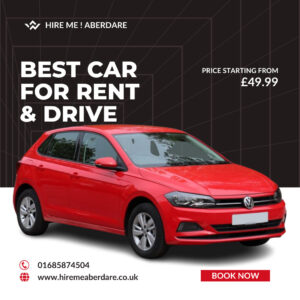 Van Hire Cardiff: Moving Made Easy
Moving houses or transporting large items can be a hassle, but not with our van hire services in Cardiff. Whether you're moving to a new apartment or collecting furniture, our vans provide ample space to accommodate your needs. With zero deposit on hire and affordable rates, you won't have to worry about breaking the bank while making your move. Our vans are well-maintained and equipped to handle various cargo sizes, making moving in Cardiff a breeze.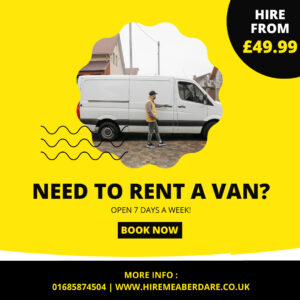 Minibus Hire Cardiff: Group Adventures Await
Planning a trip with a larger group? Our minibus hire service in Cardiff is the perfect solution. Say goodbye to the hassle of coordinating multiple vehicles and enjoy traveling together in comfort and style. Our minibusses can accommodate groups of various sizes, ensuring that everyone can enjoy the journey. With unlimited mileage, you can explore Cardiff and its surroundings without any constraints. Whether it's a family reunion, a corporate outing, or a weekend getaway with friends, our minibus hire service has you covered.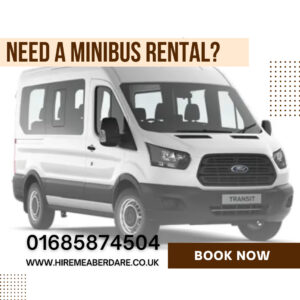 Hire Me! Aberdare: Your Trusted Vehicle Hire Partner
When it comes to vehicle hire in Aberdare and the surrounding areas, look no further than "Hire Me! Aberdare." We are your trusted partner for car, van, and minibus rental services. With a commitment to exceptional customer service and a wide range of vehicles to choose from, we ensure your rental experience is seamless and enjoyable.
Affordable Rates and Zero Deposit: Your Budget-Friendly Option
Finding a reliable vehicle hire service that doesn't break the bank is a top priority for many travelers. We understand the importance of offering affordable rates without compromising on quality. With our vehicle hire services in Cardiff, you can enjoy competitive pricing that suits your budget. What's more, we offer the convenience of zero deposit on hire, ensuring that you can get on the road without any unnecessary financial burdens. Say goodbye to hefty deposits and hello to a stress-free rental experience.
Open Seven Days a Week: Convenience at Your Fingertips
Life doesn't follow a strict schedule, and neither should your vehicle hire service. That's why we're proud to offer our services seven days a week. Whether you need a vehicle for a weekend getaway or a midweek business trip, our flexible hours ensure that you can access a rental vehicle when you need it the most. We understand that plans can change, and our commitment to availability reflects our dedication to providing top-notch service to our customers.
Long-Term and Short-Term Contracts: Tailored to Your Needs
Every traveler's journey is unique, and so are their rental needs. Our vehicle hire services cater to both long-term and short-term requirements. Whether you're in Cardiff for a brief visit or an extended stay, our contracts can be customized to match your plans. Choose the flexibility of a short-term contract for spontaneous adventures or opt for a long-term arrangement that offers convenience and cost savings for an extended stay.
Call 01685874504 or Visit Our Website: Your Convenient Booking Options
Booking your vehicle hire in Cardiff is a breeze with our user-friendly options. You can give us a call at 01685874504 to speak with our friendly and knowledgeable staff who will assist you in selecting the perfect vehicle for your needs. Alternatively, you can visit our website and explore our range of vehicles, rates, and booking options at your own pace. Our online platform is designed to make the booking process straightforward and hassle-free.
FAQs
Q: Are there any hidden fees for vehicle hire?
Absolutely not! We believe in transparency and honesty. Our rates are all-inclusive, and there are no hidden fees to surprise you. What you see is what you pay, making your vehicle hire experience straightforward and stress-free.
Q: Can I rent a vehicle for just a day?
Of course! We offer both short-term and long-term contracts to accommodate your specific needs. Whether you need a vehicle for a few hours or several weeks, we've got you covered.
Q: Is unlimited mileage really included?
Yes, indeed! We want you to explore Cardiff and beyond without worrying about mileage limits. Our vehicle hire services come with unlimited mileage, giving you the freedom to roam to your heart's content.
Q: Do I need to pay a deposit to rent a vehicle?
No deposit? That's right! We offer zero deposit on hire, ensuring that you can rent a vehicle without tying up your funds. Your rental experience is designed to be convenient and budget-friendly.
Q: Can I make changes to my booking after it's confirmed?
Flexibility is important to us. If you need to make changes to your booking, simply give us a call at 01685874504, and our team will assist you in modifying your reservation according to your requirements.
Q: What happens if the vehicle encounters mechanical issues during my rental period?
While we strive to provide well-maintained vehicles, mechanical issues can sometimes arise. In such cases, simply contact us at 01685874504, and we will arrange for assistance or a replacement vehicle to ensure your journey continues smoothly.
Conclusion
Whether you're exploring Cardiff's vibrant cityscape, moving houses, or embarking on a group adventure, our vehicle hire services offer the convenience, affordability, and flexibility you need. With car hire, van hire, and minibus hire options, along with unlimited mileage, zero deposit on hire, and accessible booking through our website or phone, your journey in Cardiff becomes a breeze. Say goodbye to limitations and hello to boundless possibilities with Hire Me! Aberdare (vehicle hire in Cardiff).