When it comes to hassle-free and cost-effective transportation solutions, nothing beats the convenience of vehicle hire services. In Cwmbran, the options are vast, but if you're seeking the perfect combination of affordability, flexibility, and quality, look no further than Vehicle Hire Cwmbran. Our comprehensive range of services, including car hire, van hire, and minibus hire, is designed to cater to your specific needs while ensuring a seamless and comfortable travel experience.
Vehicle Hire Cwmbran: A Variety of Options to Suit Your Needs
At Vehicle Hire Cwmbran, we understand that each journey is unique, and that's why we offer a diverse fleet of vehicles to choose from. Whether you need a compact car for a solo adventure, a spacious van for a group trip, or a minibus for an outing with friends or family, we have you covered.
Car Hire Cwmbran: Exploring the Region with Ease
Exploring the picturesque town of Cwmbran and its surroundings becomes a breeze with our car hire services. Our fleet of well-maintained vehicles ensures that you can navigate the roads comfortably and conveniently. From zipping through urban streets to embarking on scenic drives, our car hire options provide the freedom to explore at your own pace.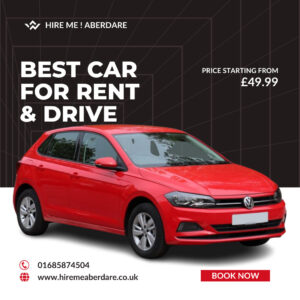 Van Hire Cwmbran: The Ultimate Solution for Moving and Transport
Moving goods or transporting a larger group? Our van hire services in Cwmbran are tailored to meet your requirements. Whether it's a home relocation, business delivery, or any other transport need, our vans are equipped to handle the task efficiently. Say goodbye to the stress of logistics and enjoy a seamless moving experience with Vehicle Hire Cwmbran.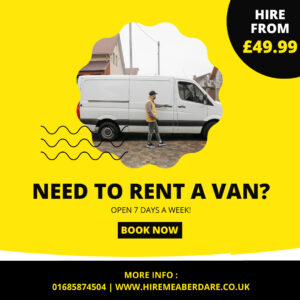 Minibus Hire Cwmbran: Travel Together, Create Memories
Planning a day out with family or friends? Our minibus hire service ensures that you can travel together without the hassle of multiple vehicles. With ample space and comfortable seating, our minibusses are perfect for group outings, special occasions, or even corporate events. Enjoy the journey and make memories while we take care of the transportation.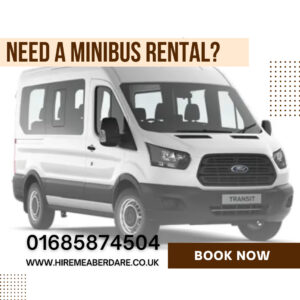 Hire Me! Aberdare: Your Trusted Vehicle Hire Partner
Whether you're a local resident or a visitor in Cwmbran, choosing the right vehicle hire service is crucial for a smooth travel experience. With Hire Me! Aberdare, you can rest assured that you're partnering with a company dedicated to customer satisfaction and excellence. Our reputation for quality service and transparent dealings sets us apart from the rest.
Zero Deposit on Hire: Making Rentals Easier on Your Wallet
We understand that financial constraints can sometimes be a concern when considering vehicle rentals. That's why we offer zero deposit on hire for all our vehicles. This means you can reserve your desired vehicle without the burden of a hefty upfront payment. It's our way of ensuring that quality transportation is accessible to everyone.
Unlimited Mileage: Explore Freely, Without Limits
When you embark on a journey, the last thing you want is to worry about mileage restrictions. With Vehicle Hire Cwmbran, you have the freedom to explore without limits. Our unlimited mileage feature allows you to venture as far as your heart desires, making your travel experience truly unforgettable.
Long/Short-Term Contract: Flexibility to Suit Your Plans
Whether you need a vehicle for a short getaway or an extended period, our flexible contract options have you covered. Choose from long-term or short-term contracts based on your plans. This flexibility ensures that you're not bound by rigid terms and can tailor your rental experience to your exact needs.
Affordable Rates: Quality Service That Fits Your Budget
Affordability is a cornerstone of our service philosophy. We believe that quality transportation shouldn't come at a premium price. Our competitive rates ensure that you can enjoy top-notch vehicles and services without straining your budget. Experience the best of both worlds – quality and affordability – with Vehicle Hire Cwmbran.
Open 7 Days a Week: Convenience on Your Schedule
Life doesn't follow a 9-to-5 schedule, and neither should your vehicle hire service. That's why Vehicle Hire Cwmbran is open 7 days a week, ensuring that you can access our services whenever it's convenient for you. Whether you're planning a weekend getaway or need a last-minute rental, we're here to assist.
FAQs About Vehicle Hire Cwmbran
Q: Can I rent a vehicle from Hire Me! Aberdare even if I'm not a local resident?
A: Absolutely! Our services are available to both local residents and visitors to Cwmbran. We welcome everyone to experience our reliable and convenient vehicle hire options.
Q: What documents do I need to provide when renting a vehicle?
A: To rent a vehicle from us, you'll need a valid driver's license, proof of identification, and a valid credit/debit card for security.
Q: Can I make changes to my rental booking after it's been confirmed?
A: Yes, you can make changes to your booking, such as extending the rental period or upgrading the vehicle. Just give us a call, and our friendly team will assist you.
Q: Do you offer any special discounts or promotions?
A: Yes, we periodically offer special discounts and promotions to make our services even more budget-friendly. Keep an eye on our website or contact us directly to learn about ongoing offers.
Q: What happens if the vehicle breaks down during my rental period?
A: In the rare event of a breakdown, our roadside assistance ensures that you're not left stranded. We'll promptly arrange for repairs or provide a replacement vehicle if needed.
Q: Is it possible to return the vehicle outside of business hours?
A: Yes, we offer after-hours drop-off options for added convenience. Just let us know in advance, and we'll provide instructions on how to return the vehicle outside of our regular business hours.
Conclusion: Your Journey Starts with Vehicle Hire Cwmbran
Embarking on a memorable journey begins with the right transportation partner. At Vehicle Hire Cwmbran, we take pride in offering top-notch car, van, and minibus hire services that cater to your every need. With affordable rates, unlimited mileage, flexible contracts, and a commitment to excellence, we're your go-to choice for hassle-free travel in Cwmbran. Experience the convenience and quality you deserve – choose Vehicle Hire Cwmbran today!