Have you ever found yourself in need of reliable transportation options in Gwent? Whether it's for a family vacation, a business trip, or simply getting around town, having access to a diverse range of vehicles can make your life so much easier. That's where our vehicle hire services come in. At Hire Me! Aberdare, we take pride in offering top-notch vehicle hire solutions that cater to your unique needs. From car hire to van hire, minibus hire, and more, we've got you covered. Let's dive into the details and explore the world of hassle-free vehicle hire in Gwent!
Vehicle Hire Gwent: Convenient and Affordable
If you're looking for a reliable way to get around Gwent, vehicle hire is the perfect solution. Our comprehensive fleet of vehicles ensures that you'll find the perfect match for your transportation needs. Whether you need a compact car for zipping around the city, a spacious van for a family road trip, or a comfortable minibus for group outings, we have it all. Our vehicle hire services are designed to offer you convenience without breaking the bank.
Car Hire Gwent: Cruising in Comfort
When it comes to car hire in Gwent, we offer a wide range of options to suit your preferences. From fuel-efficient models to luxurious rides, our diverse fleet ensures that you'll find the perfect car for your journey. Enjoy the convenience of exploring Gwent at your own pace, all while enjoying the comfort and features of our well-maintained vehicles.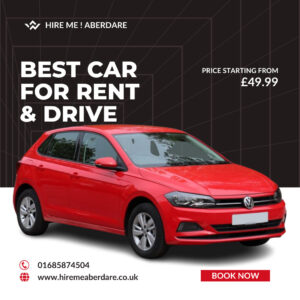 Van Hire Gwent: Spacious and Practical
Planning a move or a group outing? Our van hire services in Gwent provide you with spacious and practical options. Whether you're transporting furniture, equipment, or a group of people, our vans are equipped to handle your needs. Say goodbye to the hassle of arranging multiple vehicles or cramming everything into a small car. With our van hire service, you'll have all the space you need.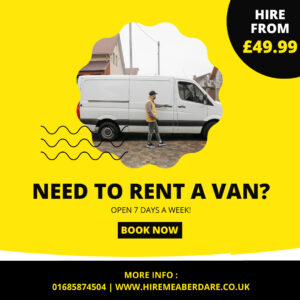 Minibus Hire Gwent: Travel Together
Traveling with a larger group? Our minibus hire service in Gwent is the answer. Experience the joy of traveling together without worrying about coordinating multiple vehicles. Our minibusses offer ample space, comfortable seating, and the convenience of traveling as a group. Whether it's a family reunion, a corporate event, or a school trip, our minibusses are designed to accommodate your group comfortably.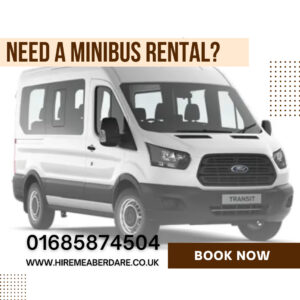 Hire Me! Aberdare: Your Assurance of Quality and Convenience
When it comes to choosing the best vehicle rental in Gwent, Hire Me! Aberdare stands head and shoulders above the rest. Our commitment to excellence, customer satisfaction, and a seamless experience has earned us the trust of locals and visitors alike.
Zero Deposit on Hire: Making It Easy
We understand that renting a vehicle should be hassle-free. That's why we offer zero deposit on hire for all our vehicles. Say goodbye to hefty deposits that tie up your funds. With our zero deposit policy, you can enjoy the convenience of renting a vehicle without any unnecessary financial burden.
Unlimited Mileage: Explore Freely
When you're exploring a new place, the last thing you want is to worry about mileage limits. That's why our vehicle hire services in Gwent come with unlimited mileage. Feel free to explore every corner of Gwent and beyond without any restrictions. Your adventure knows no bounds with our unlimited mileage policy.
Long/Short-Term Contracts: Flexibility That Fits
Whether you need a vehicle for a weekend getaway or an extended business trip, our long and short-term contract options offer the flexibility you need. Choose the duration that suits your plans and enjoy the convenience of having a reliable vehicle at your disposal.
Affordable Rates: Quality That Doesn't Break the Bank
At Hire Me! Aberdare, we believe that quality vehicle hire shouldn't come at an exorbitant price. That's why we offer competitive and affordable rates that cater to a range of budgets. Get access to well-maintained vehicles without compromising on quality or breaking the bank.
Open 7 Days a Week: Convenience on Your Schedule
Life doesn't adhere to a strict schedule, and neither should your vehicle hire service. Our doors are open 7 days a week, ensuring that you can access our vehicles when you need them. Whether it's a last-minute trip or a planned excursion, we're here to provide you with reliable transportation options.
FAQs About Our Vehicle Hire Services
Q: Is there a minimum age requirement for renting a vehicle?
A: Yes, the minimum age for renting a vehicle is 27 years old.
Q: What documents do I need to rent a vehicle?
A: You'll need a valid driver's license, a credit or debit card, and proof of identity.
Q: Can I modify my booking if my plans change?
A: Absolutely, we understand that plans can change. Feel free to contact us to make modifications to your booking.
Q: Do you offer any discounts for long-term rentals?
A: Yes, we offer special rates for customers looking for long-term vehicle hire solutions.
In Conclusion: Your Ultimate Vehicle Hire Solution in Gwent
When it comes to vehicle hire in Gwent, we pride ourselves on being your ultimate solution. With a diverse fleet of vehicles, zero deposit on hire, unlimited mileage, and flexible contract options, we offer everything you need for a seamless and enjoyable travel experience. Our commitment to affordability, convenience, and top-notch customer service sets us apart as the go-to choice for vehicle hire in Gwent. Experience the difference with Hire Me! Aberdare and embark on your next adventure with confidence.