Vehicle Hire Merthyr Tydfil: A Range of Options for Every Occasion
Welcome to our comprehensive guide on vehicle hire services in Merthyr Tydfil. Whether you're planning a road trip, moving house, or need a temporary solution for your transportation needs, we've got you covered. Our range of services includes car hire, van hire, and minibus hire, all designed to offer you maximum convenience and affordability. Read on to explore our wide range of options and find the perfect vehicle for your needs.
Car Hire Merthyr Tydfil: Exploring the Region with Ease
When it comes to exploring the stunning landscapes and attractions of Merthyr Tydfil, our car hire service is your best companion. From compact cars for solo travelers to spacious family-friendly vehicles, we have a diverse fleet to meet your requirements. Enjoy the freedom to travel at your own pace and visit hidden gems that are off the beaten path.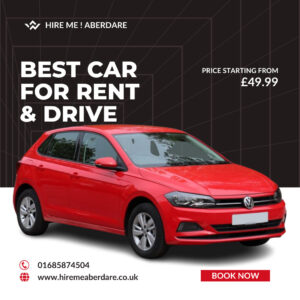 Van Hire Merthyr Tydfil: Smooth Relocation and Transportation
Moving to a new home or transporting large items becomes stress-free with our van hire services. Whether you're moving furniture, equipment, or other belongings, our vans provide the space and reliability you need. Our vans are regularly maintained, ensuring a smooth and safe journey for your goods.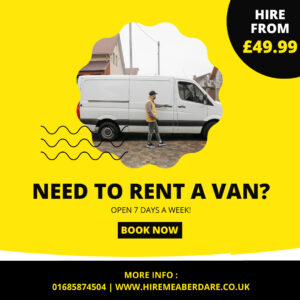 Minibus Hire Merthyr Tydfil: Group Adventures Made Easy
Planning a group outing or a special event? Our minibus hire service has got you covered. With varying seating capacities, our minibusses are perfect for school trips, family reunions, or corporate events. Experience comfortable and spacious travel, and ensure that everyone reaches their destination together.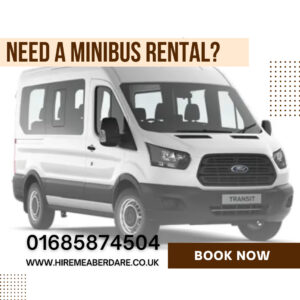 Hire Me! Aberdare: Your Trusted Vehicle Rental Partner
Hire Me! Aberdare stands out as a reliable and customer-centric vehicle hire service in the heart of Merthyr Tydfil. With a commitment to quality service and customer satisfaction, Hire Me! Aberdare offers a range of benefits for renters.
Zero Deposit on Hire: Budget-Friendly Options for Everyone
We understand that upfront deposits can be a burden, especially when you're managing other expenses. That's why we offer zero deposit options on our vehicle hire services. Now you can enjoy the convenience of a rental vehicle without any financial stress.
Unlimited Mileage: Embrace the Freedom to Explore
Worried about mileage restrictions limiting your adventure? Fret not! Our vehicle hire services come with unlimited mileage, giving you the freedom to explore near and far without worrying about additional charges.
Long and Short-Term Contracts: Flexibility that Suits You
Whether you need a vehicle for a weekend getaway or an extended period, we offer flexible contract terms to accommodate your needs. Choose from short-term rentals for quick trips or opt for a long-term contract if you require continuous transportation.
Affordable Rates: Quality Service that Fits Your Budget
Affordability is our priority. We believe that everyone deserves access to reliable transportation without breaking the bank. Our competitive rates ensure that you receive top-notch service at a price that suits your budget.
Open 7 Days a Week: Convenience at Your Fingertips
Life doesn't adhere to a 9-to-5 schedule, and neither do we. Our vehicle hire services are available seven days a week, ensuring that you can access the transportation you need, whenever you need it.
Expert Insights: Why Choose Our Vehicle Hire Services
With years of experience in the industry, we take pride in offering exceptional vehicle hire services that cater to diverse needs. Our vehicles are regularly serviced and maintained to ensure your safety and comfort. But don't just take our word for it; our satisfied customers consistently highlight our friendly staff, hassle-free booking process, and well-maintained vehicles as reasons to choose us.
FAQs
Q: Can I rent a vehicle for just a day?
A: Yes, we offer short-term rental options, allowing you to hire a vehicle for as little as a day.
Q: Are there age restrictions for renting?
A: Generally, renters need to be at least 27 years old. However, age requirements may vary based on the type of vehicle.
Q: Can I modify my booking after it's confirmed?
A: Yes, you can make modifications to your booking, such as changing the rental duration or vehicle type, subject to availability.
Q: Is insurance included in the rental cost?
A: Yes, Basic insurance coverage is usually included, but additional coverage options are available for added peace of mind.
Q: What happens if the vehicle breaks down during my rental?
A: In case of a breakdown, our dedicated support team will assist you, and a replacement vehicle will be provided if needed.
Q: Can I return the vehicle outside of business hours?
A: Yes, we offer drop-off options outside of regular business hours for your convenience.
Conclusion
When it comes to Hire Me! Aberdare (vehicle hire services in Merthyr Tydfil), we're your reliable partner for all your transportation needs. Our diverse range of vehicles, budget-friendly options, and commitment to customer satisfaction make us the preferred choice for locals and visitors alike. Experience the convenience and flexibility of our services and embark on your journey with confidence.