Welcome to the ultimate guide for vehicle hire services in the picturesque town of Mountain Ash. Whether you're planning a road trip, moving, or just need a temporary set of wheels, you'll find all the information you need about car, van, and minibus rentals. From the convenience of Hire Me! Aberdare to the enticing perks of zero deposits and unlimited mileage, this guide covers it all. Let's dive into the details and make your transportation needs a breeze.
Vehicle Hire Mountain Ash: Convenient and Affordable Options
Are you in search of a reliable vehicle hire service that offers a wide range of options? Look no further! Vehicle Hire Mountain Ash provides a comprehensive selection of vehicles tailored to your needs. Whether you're looking for a compact car, a spacious van, or a comfortable minibus, you'll find it all here. Our extensive fleet ensures that you can choose the perfect vehicle for your specific requirements.
Car Hire Mountain Ash: Exploring the Town at Your Own Pace
Car Hire with Zero Deposit and Unlimited Mileage
Are you eager to explore the enchanting town of Mountain Ash and its surrounding beauty? Opting for car hire is the ideal choice. With zero deposit requirements and unlimited mileage, you can embark on your journey without any worries. Simply choose the car that suits your preferences and hit the road with confidence.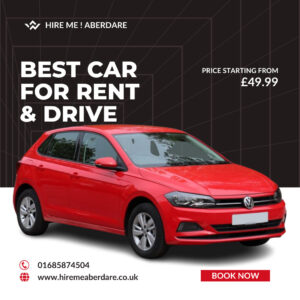 Van Hire Mountain Ash: Simplifying Your Moving Experience
Spacious Van Hire for Your Moving Needs
Moving can be a daunting task, but with van hire services in Mountain Ash, the process becomes much simpler. Whether you're moving apartments or transporting large items, our spacious vans are equipped to accommodate your belongings with ease. Say goodbye to multiple trips and enjoy a stress-free moving experience.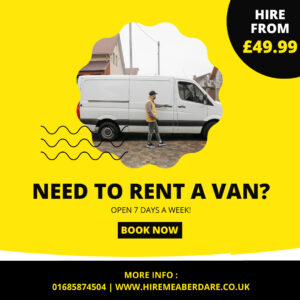 Minibus Hire Mountain Ash: Traveling Together Made Easy
Comfortable Minibus Hire for Group Travel
Planning a trip with a group of friends or family members? Minibus hire in Mountain Ash is the solution you've been looking for. Our comfortable minibusses offer ample space for everyone, ensuring a cozy and enjoyable journey. From day trips to longer adventures, our minibusses are designed to cater to your group travel needs.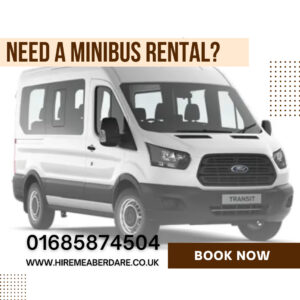 Hire Me! Aberdare: Your Trusted Vehicle Rental Partner
The Convenience of  Hire Me! Aberdare
When it comes to vehicle hire services in Mountain Ash, Hire Me! Aberdare stands out as a reliable and customer-oriented option. With a commitment to exceptional service and a customer-first approach, Hire Me! Aberdare ensures that your rental experience is smooth and hassle-free. Say goodbye to long queues and paperwork – with "Hire Me! Aberdare," your journey begins seamlessly.
Zero Deposit on Hire: Budget-Friendly Rentals
The Appeal of Zero Deposit Rentals
One of the standout features of vehicle hire services in Mountain Ash is the availability of zero deposit options. This means that you can rent your preferred vehicle without having to worry about hefty upfront costs. It's a budget-friendly solution that makes quality transportation accessible to everyone.
Unlimited Mileage: Explore Without Limits
Freedom to Explore with Unlimited Mileage
Imagine having the freedom to explore the stunning landscapes around Mountain Ash without any mileage restrictions. With unlimited mileage offered by vehicle hire services, you can drive as far and wide as your heart desires. Enjoy the journey without constantly calculating miles – the road is yours to discover.
Long/Short-Term Contracts: Flexibility to Suit You
Tailored Contracts for Your Convenience
Whether you need a vehicle for a few days or several weeks, the flexibility of long and short-term contracts has you covered. These contracts are designed to cater to your specific needs, ensuring that you have a vehicle at your disposal for the duration that suits you best.
Affordable Rates: Quality Doesn't Have to Break the Bank
Quality Service at Affordable Rates
Quality vehicle hire services don't have to come with a hefty price tag. In Mountain Ash, you'll find a range of affordable options that provide top-notch vehicles and excellent customer service without stretching your budget. Enjoy the convenience of reliable transportation without compromising on quality.
Open 7 Days a Week: Convenience on Your Schedule
Accessibility When You Need It
Life doesn't adhere to a strict schedule, and neither should your vehicle hire service. That's why many vehicle hire services in Mountain Ash are open 7 days a week. Whether it's a spontaneous weekend getaway or a last-minute need, you can count on having access to a vehicle whenever you need it.
FAQ's
Q: How can I book a vehicle through Hire Me! Aberdare?
A: Booking a vehicle is simple. Visit their website or give them a call at 01685874504 to check availability and make a reservation.
Q: Can I rent a vehicle for just a day?
A: Absolutely. Many vehicle hire services offer both short and long-term rental options to accommodate your needs.
Q: Are there any age restrictions for renting?
A: Age requirements may vary, but most services offer rentals to drivers aged 27 and older.
Q: What documents do I need to provide for renting?
A: Typically, you'll need a valid driver's license, proof of address, and a credit/debit card for security.
Q: Is unlimited mileage available for all vehicle types?
A: Yes, we offer unlimited mileage, it's best to confirm this during the booking process.
Q: Can I modify or cancel my reservation?
A: Yes, reservations can often be modified or canceled, but it's recommended to check the terms and conditions.
Conclusion: Your Key to Smooth and Convenient Transportation
In conclusion, if you're seeking hassle-free and reliable transportation options in Mountain Ash, vehicle hire services offer a wide range of benefits. From car hire with zero deposits to the convenience of Hire Me! Aberdare the flexibility of long and short-term contracts, and the affordability of rates, your journey is bound to be stress-free and enjoyable. Explore the breathtaking landscapes and attractions of Mountain Ash with the freedom of unlimited mileage and the comfort of well-maintained vehicles. Whether you're moving, traveling with a group, or simply exploring the town, vehicle hire services provide the convenience and flexibility you need. So why wait? Start planning your next adventure with the ease and convenience of vehicle hire in Mountain Ash.