Are you in need of reliable vehicle hire services in Neath? Look no further! At Hire Me! Aberdare (Vehicle Hire Neath), takes pride in offering a diverse range of rental options, including cars, vans, and minibuses. Our commitment to quality, affordability, and convenience has made us a trusted choice for both locals and visitors alike. Whether you require a short-term rental or a long-term contract, we've got you covered. Read on to discover why Vehicle Hire Neath should be your top choice for all your rental needs.
Vehicle Hire Neath: The Power of Choice
When it comes to vehicle hire in Neath, having choices is key. That's why we offer an extensive fleet of vehicles, ensuring you find the perfect fit for your needs. From compact cars for solo travelers to spacious vans for group outings and minibusses for larger parties, we've got options for everyone. Our diverse range allows you to choose the vehicle that aligns with your preferences and requirements.
Car Hire Neath: Cruising in Comfort
Car Hire Neath offers the ultimate solution for those seeking comfort and convenience during their travels. Whether you're exploring the city or embarking on a road trip, our well-maintained cars ensure a smooth and enjoyable journey. With affordable rates, flexible terms, and the option for both short and long-term contracts, you can hit the road with peace of mind.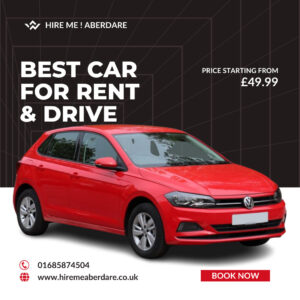 Van Hire Neath: Space for Your Adventures
For those times when you need extra space, Van Hire Neath steps in to cater to your needs. Our vans are perfect for transporting larger groups, luggage, or equipment. From moving houses to group outings, our vans provide the space and reliability you require. Experience the freedom of a spacious ride without compromising on affordability.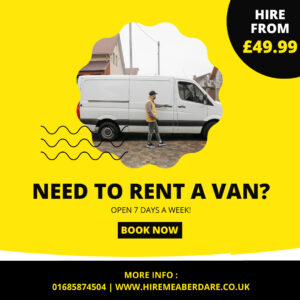 Minibus Hire Neath: Traveling Together
Minibus Hire Neath is your solution for group travel. Whether you're planning a family reunion, a corporate event, or a school trip, our minibusses offer ample seating and comfort for all passengers. With unlimited mileage and flexible rental periods, you can focus on enjoying the journey without worrying about the distance.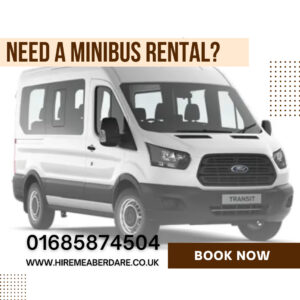 Hire Me! Aberdare: Going the Extra Mile
When you choose Vehicle Hire Neath, you're not just getting a vehicle – you're getting a partner in your journey. Our Hire Me! Aberdare service ensures that your rental experience is seamless from start to finish. Our team is dedicated to assisting you every step of the way, from selecting the right vehicle to addressing any concerns you may have.
Zero Deposit on Hire: Budget-Friendly Choices
Worried about hefty deposits? With Vehicle Hire Neath, you can leave those concerns behind. We offer zero deposit on hire, allowing you to access top-quality vehicles without the financial burden of a large upfront payment. This means you can allocate your budget to other important aspects of your trip.
Unlimited Mileage: Explore Freely
Your journey should never be limited by mileage restrictions. With Vehicle Hire Neath, you can enjoy the freedom of unlimited mileage on your rental. Whether you're planning a short local trip or an extended adventure, you won't have to worry about exceeding mileage limits.
Long/Short-Term Contract: Flexibility That Fits You
We understand that every customer's needs are unique. That's why we offer both long-term and short-term rental contracts. Whether you need a vehicle for a day, a week, or even months, our flexible contracts cater to your specific requirements. Change your plans? No problem. Our contracts can be adjusted to suit your evolving needs.
Affordable Rates: Quality Doesn't Have to Break the Bank
At Vehicle Hire Neath, we believe that quality vehicle hire should be accessible to everyone. Our affordable rates ensure that you can enjoy a comfortable and reliable ride without stretching your budget. We're committed to offering value for your money, allowing you to focus on making memories during your journey.
Open 7 Days a Week: Convenience at Your Fingertips
Life doesn't stick to a strict schedule, and neither do we. Our services are open 7 days a week, ensuring that you have access to rental vehicles whenever you need them. Whether it's a weekday business trip or a weekend getaway, our availability is designed to accommodate your plans.
FAQs About Vehicle Hire Neath
Can I rent a vehicle for a single day?
Absolutely! We offer both short-term and long-term rental contracts, so you can rent a vehicle for a single day or even just a few hours.
Are there any hidden charges apart from the rental fee?
No, we believe in transparent pricing. The rental fee covers your chosen vehicle, and we don't spring any hidden charges on you.
Do I need to purchase additional insurance?
While our vehicles come with basic insurance coverage, you have the option to purchase additional insurance for added peace of mind.
Can I change my rental period after booking?
Yes, we understand that plans can change. You can modify your rental period, and our team will assist you in adjusting your contract accordingly.
Is there a limit to how far I can drive the rental vehicle?
No, we offer unlimited mileage on our rental vehicles, so you can drive as far as you'd like without worrying about mileage restrictions.
How do I book a rental vehicle?
Booking is easy! You can visit our website or give us a call at 01685874504 to choose your vehicle, specify your rental period, and complete the booking process.
Conclusion
When it comes to vehicle hire in Neath, look no further than Vehicle Hire Neath. With a wide range of vehicles, flexible terms, zero deposits, and unlimited mileage, we offer everything you need for a seamless rental experience. Our commitment to quality, affordability, and customer satisfaction sets us apart as your top choice for car, van, and minibus rentals. Experience the convenience, comfort, and freedom that our services provide. Book your dream vehicle with us today!