Introduction: Your Trusted Vehicle Hire Partner
When it comes to finding top-notch vehicle hire services in Pontypool and Aberdare, your search ends here. We pride ourselves on offering an extensive fleet of well-maintained vehicles, including vans, cars, and minibuses, catering to your transportation needs. With our affordable rates, zero deposit policy, and over 25 years of dedicated service in South Wales, we have built a reputation as a reliable and customer-focused vehicle hire company.
Vehicle Hire Pontypool: Your Journey Starts Here
Whether you're planning a weekend getaway, moving houses, or require a temporary vehicle, our vehicle hire services in Pontypool have got you covered. We understand that every journey is unique, and that's why we offer a diverse fleet that includes vans, cars, and minibuses, all maintained to the highest standards to ensure a smooth and safe ride.
Van Hire Pontypool: Spacious Solutions for Your Needs
A Variety of Vans for Different Occasions
When it comes to transporting goods or a large group of people, our van hire services in Pontypool offer versatile options. From compact vans for small loads to spacious ones for larger cargo, our fleet caters to your specific requirements. Whether it's for business or personal use, our vans are equipped to make your transportation experience seamless.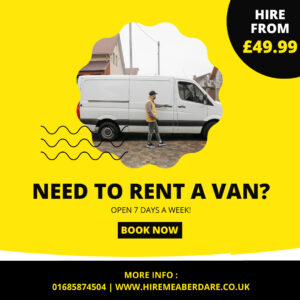 Car Hire Pontypool: Drive in Comfort and Style
Explore the Open Road with Our Cars
For those looking for a more intimate travel experience, our car hire services in Pontypool provide an array of options. From compact cars for solo travelers to comfortable sedans for families, we offer vehicles that combine performance and comfort. Experience the freedom of the open road with our reliable and well-maintained cars.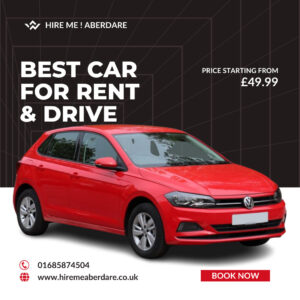 Minibus Hire Pontypool: Travel Together with Ease
Convenient Minibusses for Group Travel
When you're travelling with a group, our minibus hire services in Pontypool ensure everyone arrives at their destination together. Our spacious minibuses can accommodate larger groups, making them perfect for family gatherings, corporate outings, or school trips. Enjoy a stress-free journey with our comfortable and well-equipped minibuses.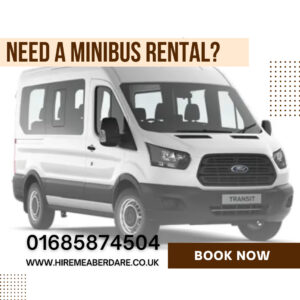 Hire Me! Aberdare: Your Reliable Transportation Partner
Serving Aberdare with Excellence
For those seeking vehicle hire services in Aberdare, look no further. Our commitment to providing reliable transportation solutions extends to Aberdare and its surroundings. With our convenient location and easy booking process, we make sure you have the vehicle you need, right when you need it.
Affordable Rates: Quality Service, Budget-Friendly Prices
Quality Doesn't Have to Break the Bank
At our vehicle hire company, we believe that quality transportation shouldn't come at a premium price. We offer competitive rates that allow you to experience our well-maintained fleet without straining your budget. Whether it's a short-term rental or a longer journey, we prioritize affordability without compromising on service.
Well-Maintained Fleet: Your Safety, Our Priority
Your Safety is Our Top Concern
When you choose our vehicle hire services, you're choosing safety and reliability. Our well-maintained fleet undergoes regular inspections and maintenance to ensure optimal performance. We understand the importance of a smooth and secure journey, and our commitment to maintaining our vehicles reflects that.
Zero Deposit on Hire: A Hassle-Free Experience
Hassle-Free Booking Process
We understand that traditional deposits can be a concern when renting a vehicle. That's why we offer a zero deposit policy, giving you peace of mind during the booking process. With no upfront deposit required, you can focus on planning your journey and leave the financial worries behind.
Unlimited Mileage: Explore Freely
No Limits to Your Adventures
Don't let mileage restrictions hold you back from your adventures. Our unlimited mileage policy allows you to explore to your heart's content, whether you're embarking on a cross-country road trip or simply need to cover some extra miles. Enjoy the freedom of the open road without worrying about mileage caps.
Over 25+ Years of Service: Experience You Can Trust
Decades of Dedication
With a legacy spanning over 25 years, we have proudly served the transportation needs of South Wales. Our extensive experience in the industry speaks volumes about our dedication to providing top-tier services. Over the years, we have fine-tuned our offerings to ensure an unmatched vehicle hire experience for our customers.
FAQs
Q: Can I rent a vehicle for a single day?
Absolutely! We offer flexible rental options, including single-day rentals. Whether you need a vehicle for a quick errand or a day trip, our services cater to your schedule.
Q: Are there age restrictions for renting?
Yes, our standard policy requires renters to be at least 27 years old. However, exceptions can be made in certain cases. Feel free to inquire about age-related concerns when booking.
Q: How do I make a reservation?
Making a reservation is easy. You can do it online through our user-friendly website or give us a call at 01685874504. If you have any questions or need assistance, our customer support team is here to help.
Q: What happens if the vehicle breaks down during my rental?
In the rare event of a breakdown, our roadside assistance team is available to provide support. We'll work quickly to get you back on the road or provide a replacement vehicle if necessary.
Q: Can I modify my reservation?
Yes, you can modify your reservation. We understand that plans can change. Just make sure to notify us as soon as possible so we can assist you accordingly.
Q: Do you offer long-term rental discounts?
Absolutely! We offer attractive discounts for long-term rentals. If you're planning an extended journey, our team can provide you with information about our special rates.
Conclusion: Your Ultimate Vehicle Hire Solution
In conclusion, our vehicle hire services in Pontypool and Aberdare offer a comprehensive solution for all your transportation needs. With a diverse fleet, affordable rates, zero deposit policy, and over 25 years of dedicated service, we are your trusted partner for hassle-free journeys. Explore the open road with confidence, knowing that our well-maintained vehicles and customer-focused approach have your back every step of the way.