Vehicle Hire Pontypridd: Your Ultimate Solution
When it comes to vehicle hire in Pontypridd, Aberdare, and the surrounding areas, you want a service that's reliable, convenient, and affordable. In this comprehensive guide, we'll explore the benefits of vehicle hire, whether you need a car, van, or minibus. We'll also delve into the details of "Hire Me! Aberdare," highlighting their affordable rates, zero deposit policy, unlimited mileage options, and commitment to maintaining a top-notch fleet. So, let's dive into the world of hassle-free vehicle rentals.
Affordable Rates
One of the primary concerns when renting a vehicle is the cost. Fortunately, in Pontypridd and Aberdare, you can find affordable rates that won't break the bank. Whether you need a car for a weekend getaway or a van for a business move, competitive pricing is just a click away.
Zero Deposit
Worried about hefty deposits draining your wallet? With "Hire Me! Aberdare," you can enjoy vehicle hire with no deposit required. This hassle-free approach allows you to reserve your chosen vehicle without tying up your funds.
Unlimited Mileage
Exploring the beautiful landscapes of Pontypridd and Aberdare should never be limited by mileage restrictions. Opt for vehicle hire that offers unlimited mileage, giving you the freedom to roam without worrying about extra charges.
Well-Maintained Fleet
Safety is paramount when it comes to renting a vehicle. "Hire Me! Aberdare" takes pride in its well-maintained fleet. Rest assured that you'll be driving a reliable and roadworthy vehicle, making your journey smooth and worry-free.
Car Hire Pontypridd: Versatile and Convenient
The Perfect Fit
Whether you're traveling solo or with the family, car hire in Pontypridd offers the perfect fit for your needs. From compact cars to spacious SUVs, you'll find the ideal vehicle to match your travel plans.
Easy Booking
Booking your car hire is a breeze with online reservation systems. Choose your vehicle, select your pickup and drop-off locations, and you're all set. It's that simple and convenient.
Explore at Your Own Pace
With a rented car, you're in control of your itinerary. No rushing for tour buses or adhering to strict schedules. Explore Pontypridd and its surroundings at your own pace and on your own terms.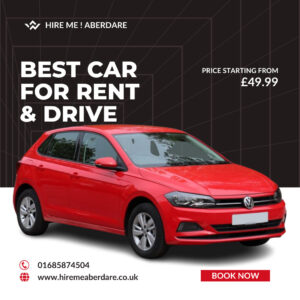 Van Hire Pontypridd: Power and Space
Ideal for Moving
When you need to move goods or relocate, a van is your go-to option. Pontypridd Van Hire provides the power and space required for a smooth and efficient move.
Business Solutions
For businesses in Pontypridd and Aberdare, van hire is an excellent solution for transportation needs. Whether it's deliveries, events, or projects, you can count on reliable and spacious vans.
Group Travel Made Easy
Planning a group outing? A minibus offers ample seating and comfort for everyone. Explore the area together without worrying about multiple vehicles or logistics.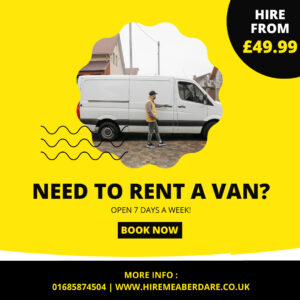 Minibus Hire Pontypridd: Group Adventures Await
Comfortable and Spacious
Minibuses are designed for group comfort. With ample space and seating, you can embark on group adventures in Pontypridd and Aberdare without compromising on comfort.
Safe and Reliable
Safety is paramount, especially when transporting a group. "Hire Me! Aberdare" ensures that their minibusses are in top condition, providing a safe and reliable journey.
Event Transportation
For special events and gatherings, minibus hire in Pontypridd ensures that everyone arrives together and in style. It's the perfect solution for weddings, parties, and corporate events.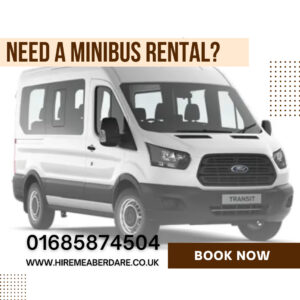 FAQs
Q: Can I rent a vehicle without a deposit?
A: Yes, "Hire Me! Aberdare" allows you to rent without a deposit, thanks to their zero deposit policy.
Q: Are there age restrictions for renting vehicles?
A: Typically, you must be at least 27 years old to rent a vehicle. However, specific age requirements may vary by vehicle type and rental company.
Q: What documents do I need to rent a vehicle?
A: You'll typically need a valid driver's license, proof of address, and a form of payment when renting a vehicle.
Q: Do I need to refill the gas tank before returning the vehicle?
A: It's a good practice to return the vehicle with the same level of fuel it had when you picked it up. Rental companies often charge higher rates for refueling.
Q: What if I need to extend my rental period?
A: If you need more time with your rental vehicle, contact the rental company as early as possible to discuss extension options and any associated fees.
Conclusion
Vehicle hire in Pontypridd, Aberdare, and the surrounding areas offers a convenient and affordable way to explore, travel, or move goods. With "Hire Me! Aberdare," you can enjoy affordable rates, zero deposit requirements, unlimited mileage, and a fleet of well-maintained vehicles. Whether you're looking for car hire, van hire, or minibus hire, the options are versatile and designed to meet your specific needs. Don't miss out on the chance to experience Pontypridd and Aberdare at your own pace and with peace of mind.